TARPON: The "Silver King"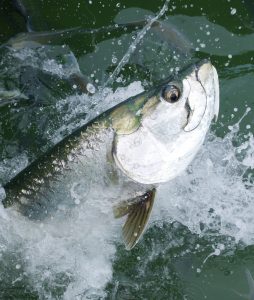 Probably no gamefish has had as much to do with transforming the Florida Keys from a sleepy chain of islands into the "Sportfishing Capital of the World" as the mighty Tarpon. These islands have been the epicenter of Tarpon fishing for nearly one hundred years, and anglers continue to arrive from across the globe to chase the Silver King throughout the waters of the Keys.
Tarpon range in size from a 5 pound "baby" all the way to the monstrous size of 280 pounds…or more!  From juvenile tarpon tucked away in some almost-forgotten freshwater backcountry creek to mature fish migrating along the edge of an ocean, there is something about tarpon that will captivate any angler.  A tarpon's airborne acrobatics are only matched by their freight train-like strength and stamina, and the variety of habitats they utilize throughout their lives adds to the adventure and fun of finding and catching them.
You will be amazed that a 7-foot long tarpon could eat one of my custom flies that are no longer than just a few inches, and watching one leave the water is something you won't forget.  No matter how much you do it, tarpon fishing never loses it's excitement!  Your skill will be tested to the limits by these magnificent creatures, and you are sure to want to come back for more of what many consider to be the ultimate shallow water sportfish.