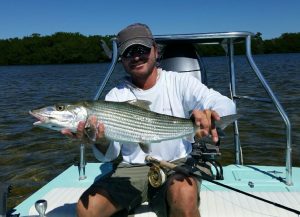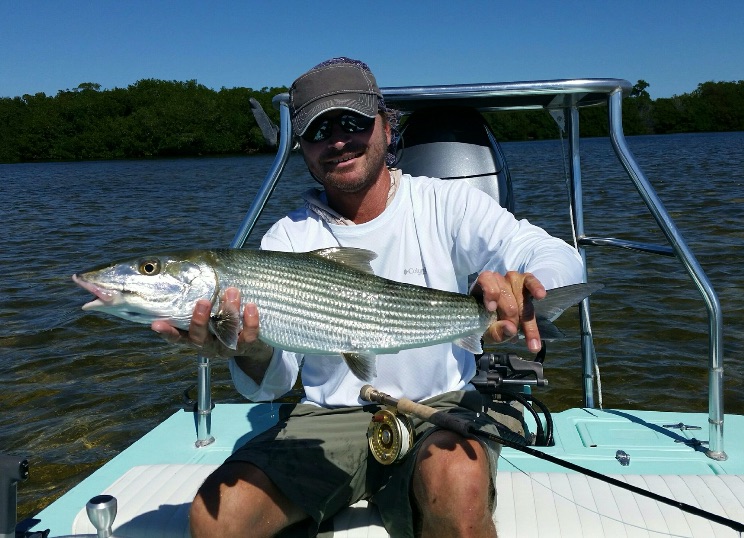 Bonefish: The "Grey Ghost"
The Bonefish, my favorite.  I realize that through the years I have transformed many shallow water anglers into bonefish anglers who might not have otherwise even seriously tried it.  Once you get to know the bonefish, few other species can compare.  The wary nature of bonefish, plus the strength and speed they possess combine to result in the perfect angling challenge.
You would think a fish ranging from a few pounds to fifteen pounds or more in Islamorada might be east to spot in the often very shallow and clear waters where they hunt for food, but they have some advantages.  Bonefish can blend into the environment.  Their sides reflect the color of the bottom, and their backs range in color from sandy white over light bottom to bars of almost black when they spend time over dark turtlegrass.  Luckily, in every situation there are different telltale signs that an angler can look for that will give the fish away.  Once spotted, nothing in fishing can cause your heart to skip a beat quite like the sight of a bonefish slowly coming into casting range.
Bonefish are famous for being extremely wary and difficult to approach while on the shallow flats.  One unnatural sound or shadow can often send them rocketing off to deeper water, and an angler looking for the next opportunity.  But bonefish spend time in shallow waters because there is a lot of food there for them, and the fish are there to feed.  With the right presentation they will demonstrate aggressive behavior that surprises many anglers new to bonefishing, sometimes literally chasing each other to the fly or bait.  Once hooked, the power and speed of this fish is hard to believe!  It happens so fast, with line disappearing from the reel as it slices through the water testing both tackle and angling skill.  There are many who believe that, pound-for-pound, there is no stronger or faster fish than the Bonefish.
Bonefish live in many different angling destinations, but Islamorada fish are special.  They are big and smart, and provide one of the most rewarding angling challenges that the keys have to offer.  Pursing bonefish with spinning tackle is an exciting angling challenge, and is a unique combination of skills new and old to many spin-fishing anglers who discover their new favorite fish on the bonefish flats.  If you are a fly fisherman, you will find few things more rewarding than catching an Islamorada bonefish.  From stalking and casting techniques, to fly selection and presentation, to the ultimate shallow water battle on fly tackle ending in a fine release, the bonefish has it all.  The good news is that Islamorada boasts some of the biggest and best bonefish flats in the world…and it's my backyard.